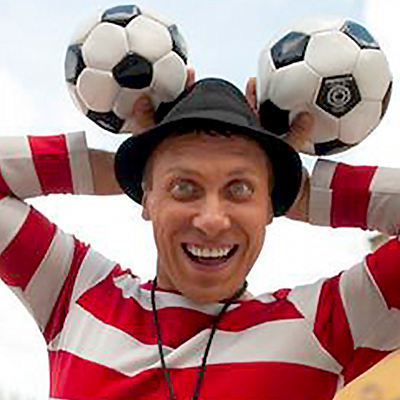 ALEKSEY GAVRILOV, Judge, Florida
Actor, Comedian, Entertainer
Meet Aleksey Gavrilov, known to millions as Clown Sergio the Italian Juggler
He has been featured on Univision's Good Morning America, and performs seven shows per day at Walt Disney World's Epcot. Meet Aleksey Gavrilov, known to millions as Clown Sergio the Italian Juggler. Aleksey receives rave reviews from crowds for his character performances but his journey from early life in Russia to fame in the US is a story you will want to know.
Aleksey was born in Voronezh Russia in 1973. His experience in circus performances spans 30 years, beginning in Voronezh with Circus Studio, followed by Circus College in Moscow, where he worked with many masters. In 1999, Aleksey was invited to work in Cypress Gardens, a botanical theme park located near Winter Haven, Florida. He arrived with his three-year-old daughter Julia, who also performed in the shows from ages 3 until 8 years old.

For the first two years, Aleksey performed and enjoyed life in the US. "I had no difficulty adjusting to life in the US. The company provided housing, salary, funds to buy a car and so on." Said Gavrilov.
Cypress Gardens fell on hard times in 2003 and struggled to remain open, eventually it closed its doors. For Aleksey and his daughter, this meant finding a new place to perform. "When my employment contract expired, life became more difficult. I was able to remain in the United States but it took a few years before I was hired by Disney," said Gavrilov.
Gavrilov continued performing in a variety of shows including acrobatic acts with swords, fire, snakes and juggling. He auditioned twice as a performer for Disney but he was turned down both times. Aleksey didn't give up, and on the third attempt he received an invitation to work there. It has been twelve years since his first show at Disney, and his act as Clown Sergio continues to delight tourists as they venture through the Epcot Park.
Without warning, Clown Sergio appears on a Gondola shaped skateboard, pushing his way into audiences as they pass. Within seconds, a crowd forms around him and he begins to enchant them with juggling, and comedic antics that involve unsuspecting guests that he calls out of the crowd to participate. For Gavrilov, the audience participation is the hardest part of the act,"Each crowd is unique and I only have a few seconds to find people who are willing to participate and go along with the show."
Gavrilov is also active in the local community; he attends events of the Russian speaking community, Jewish Chapel and the Ukrainian diaspora. He often performs for children at the events and enjoys bringing happiness to others. Gavrilov also donates his personal time to visit hospitalized children. He has worked as an ambassador with Anastasia Domashova, Miss Europe 2012, founder of Say Ft. Charity for children at St. Jude's in Nashville. He has also made appearances in Orlando's Arnold Palmer Hospital for Children.
Gavrilov's audiences are growing around the world due to his channel on YouTube and Facebook. Aleksey's plan is to follow in the footsteps of performers like Charlie Chaplin, by pursuing a role in a cinematic project. He is currently developing a script for a cartoon about the adventures of Sergio, which will also require sponsorship to complete. For Gavrilov the most important aspect is originality in his craft, "I'm constantly looking for ideas, there cannot be anything that is copied, it must be new and exciting for the audience." He says.
Gavrilov shared this advice for young performers who aspire to find their own spotlight one day, "You have to work hard, practice and experiment with new ideas, and the study the history of the art."
Facebook: https://www.facebook.com/ClownSergio