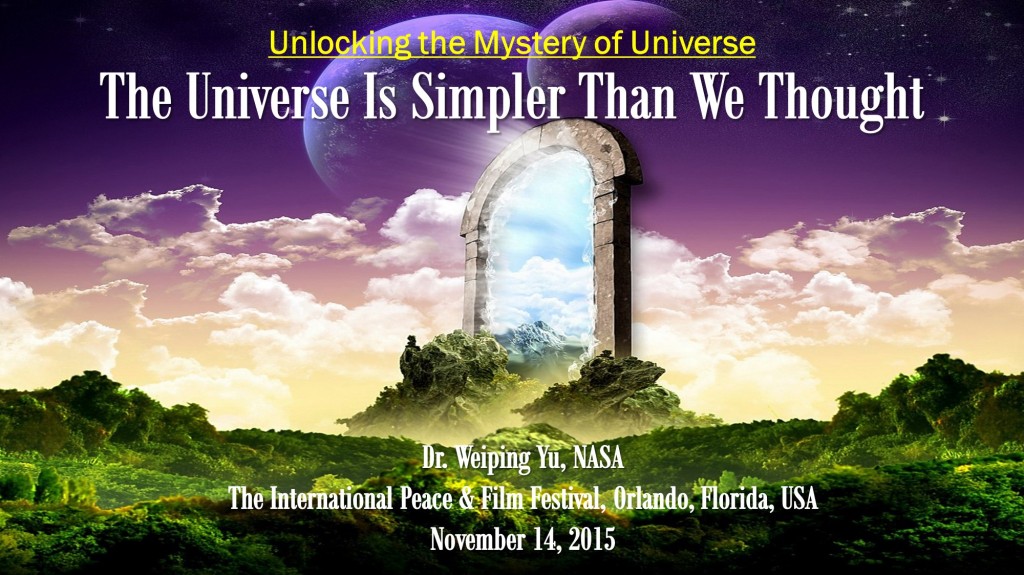 NASA scientist and engineer, Dr. Weiping Yu, will present "Unlocking the Mysteries of Universe: The Universe is simpler than we thought." at the International Peace & Film Festival on November 14, 2015.
Dr. Yu has developed a new theory unifying all the field forces in the universe with one single fundamental particle. Using this theory, he is able to settle the centennial dispute between Einstein's Theory of Relativity and Quantum Mechanics. During this presentation, the author will reveal the secrets of the origin of Electric Charge, the origin of Mass, the natures of Gravity, Dark Matter and Dark Energy. The author will also explain the mysteries of Quantum Mechanics Double Slit Experiment and Wave-Particle Duality paradox.
About Dr. Yu
Dr. Weiping Yu is a scientist/physicist at NASA Kennedy Space Center.  Yu holds a doctorate in Engineering Physics and is a pioneer researcher in theoretical and applied physics and the founder of the Universal Particle (Uon) Theory of Everything.
Dr. Yu is a contributing member of the American Physical Society (APS), the American Institute of Aeronautics and Astronautics (AIAA) and American Society of Mechanical Engineers (ASME). He is a senior member of NASA Speakers Bureau and a guest speaker at conferences, universities, and communities. 
About the Festival
The goal of the festival is to foster the establishment of relationships through film, knowledge sharing and cultural exchange. Attendees will have the opportunity to interact with represented countries, view exhibits, attend performances and educational sessions, watch independent films and experience cultural exchange on a personal level.
What are Knowledge Sharing Sessions?
The knowledge sharing sessions bring together discovery and research in Agriculture, Science & Technology, Health, Education and International Business. Industry leaders and explorers share their findings with the festival audience in a face to face environment, designed to inspire and educate. The idea of a knowledge share is quite simple; When one nation finds a success that helps its people, it is logical to assume that success can help other nations as well. The broad international audience at the festival provides a wide exposure for attendee and speaker alike. Knowledge Sharing sessions take place during the film festival, cultural performances and diplomatic appearances.