Dr. Kourova  will present "Global Education, Cultural Exchange and Cultural diplomacy" at the International Peace & Film Festival on November 14, 2015.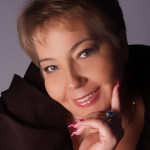 Dr. Alla Kourova is an assistant professor at the University of Central Florida, United States. She is the author of more than fifty publications on language teaching and cross-cultural communication. Dr. Kourova is also a recipient of the University Excellence in Undergraduate Teaching Award, the Scholarship for Teaching and Learning Award, the Teaching Incentive Program Award, and the Excellence in Research Award. For many years, she has also collaborated with prestigious organizations such as the Peace Corps and the Fulbright Institution of International Education. Her pedagogical credo is teaching language through culture. Dr. Kourova's research assistant is Kerrianne Reilly, an undergraduate student whose major is in history and minors are in Russian and Middle Eastern Studies. She is a participant of several U.S. Department of State grants, as well as a leading research assistant in the Russian Language and Culture Program.
What are Knowledge Sharing Sessions?
The knowledge sharing sessions bring together discovery and research in Agriculture, Science & Technology, Health, Education and International Business. Industry leaders and explorers share their findings with the festival audience in a face to face environment, designed to inspire and educate. The idea of a knowledge share is quite simple; When one nation finds a success that helps its people, it is logical to assume that success can help other nations as well. The broad international audience at the festival provides a wide exposure for attendee and speaker alike. Knowledge Sharing sessions take place during the film festival, cultural performances and diplomatic appearances.
About the Festival
IPFF  is a face to face experience, where every member of the audience can engage and establish international relationships through independent film, knowledge sharing and cultural exchange. Attendees will have the opportunity to view films from over 60 countries, interact with diplomats from represented countries, view exhibits, attend performances and attend educational sessions.
Event: IPFF is held in Orlando, Florida | November 12 – 15, 2015
Crowne Plaza| 7800 Universal Boulevard
Orlando, Florida 32819
Visit the festival website for ticket and registration details: http://PeaceFestival.us