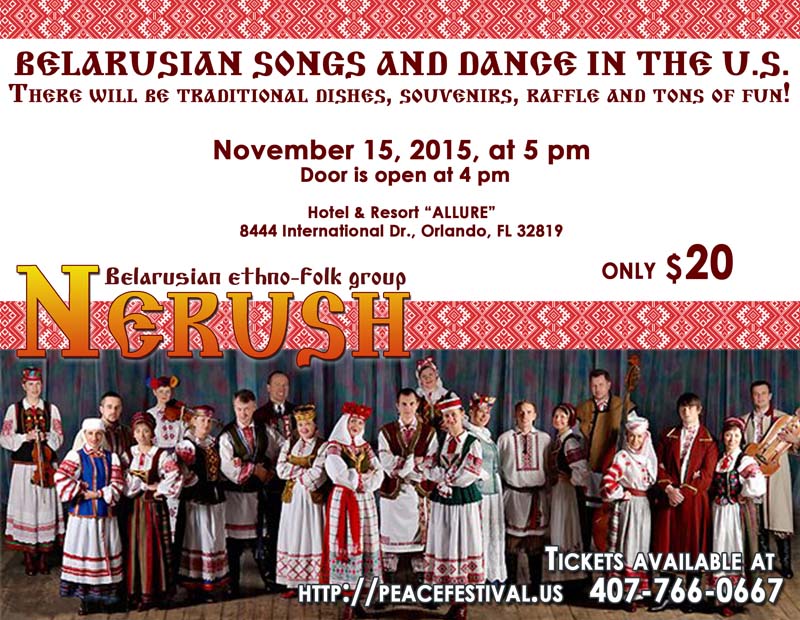 International Belarusian Folk Group – Nerush will perform two mini concerts during the International Peace and Film Festival on Saturday and Sunday November 14-15, 2015. Nerush is a professional ensemble of folk performers including music, dance, traditional costumes and much more. Come enjoy their powerful abilities to immerse you in the culture of Belarus and East European customs. Both mini concerts will occur in the Hall of Nations section of the festival among a gathering of diplomats, filmmakers and festival attendees.
There will also be a full concert held at at the Allure Hotel and Resort on November 15, 2015 at 5:00PM. This will be a full concert featuring the talents of this professional ensemble.
Tickets can be purchased online or direct by phone at: 407-766-0667.
[tc_ticket id="3223″ title="Click to Buy Ticket: Nerush – Belarusian Concert" show_price="true" type="buynow
About Nerush
Belarusian ethno-folk ensemble "NERUSH" was founded in 1980. In 1985 they presented the folklore program "Christmas Celebrations," for which they received the" National Award " for the high creativity and talent. Also in 1985 "NERUSH " made their first appearance at the International Festival in Bulgaria and brought home " The Gold Medal." During their creative period "NERUSH " performed at various festivals and competitions around the world. They were awarded numerous awards and prizes for their performance .The main repertoire of traditional folk songs and dances are written in modern arrangement from different regions of Belarus.
---
About the Festival
IPFF  is a face to face experience, where every member of the audience can engage and establish international relationships through independent film, knowledge sharing and cultural exchange. Attendees will have the opportunity to view films from over 67 countries, interact with diplomats from represented countries, view exhibits, attend performances and attend educational sessions.
Event: IPFF is held in Orlando, Florida | November 12 – 15, 2015
Crowne Plaza| 7800 Universal Boulevard
Orlando, Florida 32819
Visit the festival website for ticket and registration details: http://PeaceFestival.us