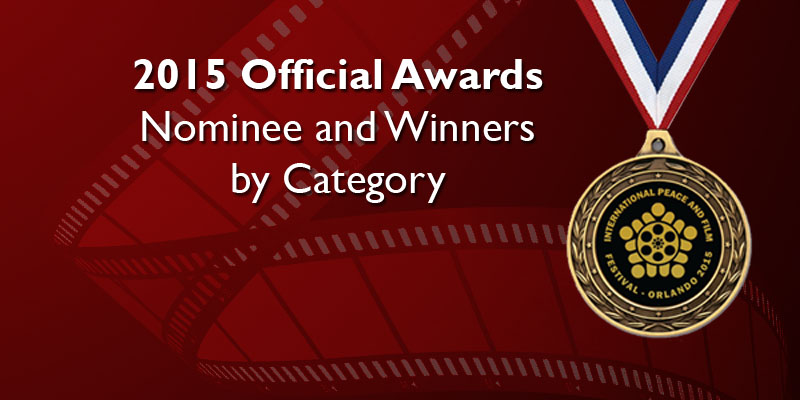 Official list of award categories with finalists and winners of the 2015 International Peace and Film Festival. Selection was made from 1325 films, submitted from 87 countries worldwide. Award ceremony took place at the festival in Orlando, Florida on November 15, 2015. Film trailers and detail are available on the festival website www.PeaceFestival.us or via the official channel IPFF.TV on Roku/Amazon Fire.
AWARD LIST
Ambassador of Peace
The Ambassador of Peace is awarded to the film that illustrates the tangible engagement of peace. It is the highest award of the festival.
Winner:
Future Dreaming – Australia
Director: Kaya Finlayson
Producer: Dinah Wakefield
Featuring: Dr. David E. Martin, PhD
Avante-Garde
Avant Garde is awarded to the film with highest level of technical achievement used to present a story.
Winner:
Baobabs, between Land and Sea – France
Directing Producer: Cyrille Cornu
Standard Awards
Rising Star Award
Recognizing exceptional talent in the student film category: Winning nominee designated by *
Best Music Video
Recognizing the highest quality of music based cinema: Winning nominee designated by *
Essence Awards
Essence is awarded to the top film in the shorts category. The award recognizes the films ability to creatively convey an idea in minimal time. Winning nominee designated by *
Short Drama
Short Comedy
Short Animation
Short Documentary
Enlightenment Awards
The Award of Enlightenment is assigned to the films which best explore and document a cultural art, lifestyle or history. Winning nominee designated by *
Judges Choice Awards:
The five judge panel awards their "Choice" awards from the festival as follows: Winning nominee designated by *

Knowledge Share Awards
The festival knowledge share sessions, where leading experts come to share their knowledge and skills for the good of mankind, presents awards to the top presentations as follows: